CAMBODIA
| | |
| --- | --- |
| Capital | : Phnom Penh |
| National Population | : 11 million |
| Language | : Khmer |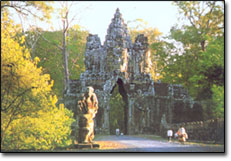 South gateway of Angkor Tom

Cambodia is at the frontier of tourism. It has a rich culture dating back many centuries when the Angkor Civilitation was the region's most developed. The 9th century Angkorian temples have intrigued archaeologists and fascinated tourists since being rediscovered in 1860. They remain one of the world's great ancient wonders and the jewel of them all, Angkor Wat, is the world's largest religious monument.

The country has others attractions - from unspoiled beaches, fascinating markets, Mekong river cruises, beautiful natural areas, the Royal Palace in Phnom Penh and isolated hilltribe groups. There are many potential ecotourism attractions in rainforests, riverine and wetland ecosystems. These will become more accessible as tourism infrastructure develops.

The capital, Phnom Penh, is the gateway for tourists. There are several attractions here like the Royal Palace/Silver Pagoda, other temples like Wat Phnom, Mekong river cruises and the National Museum. The city has lively restaurants, bars and exciting market shopping. Visitors to Angkor usually fly to Siem Reap or take a boat across southeast Asia's largest fresh waterlake, Tonle Sap.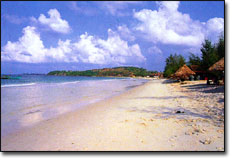 Unspoiled beach at Sihanoukville

Cruises on th Tonle Sap give an insight into the importance of fishing as well as ecotourism opportunities such as birdwatching in the flooded forests. Siem Reap Is a small town offering good accommodation for those visiting Angkor. With many accessible Angkorian temples here and at nearby Roluos, tourists can stay from one day to one week. Other attractions near the town are croccodile farm, markets and waterwheels along the river.

In the south, the beaches and islands of Sihanoukville and Kep provide relaxing gateways with low key fascilities and untouched beaches. The isolated provinces of Mondulkiri and Ratanakiri are home to hilltribe peoples whose unique lifestyles attract adventurous travellers.

Khmer dance, song and arts are sophisticated and integrated into contemporary life. Rice, fish, noodles and vegetables are the staple foods and are usually obtained fresh from open markets. Meal can be spicy and accompanied by fish sauce or prahok. Most holidays are religious or related to the monarchy. Special days are for the Royal Ploughing Ceremony, Pchum Ben, Kathina Tean, the King's birthday and the Water Festival.

For more information, please visit http://www.tourismcambodia.com/.

[top]